The virtual memory is a hardware element that optimizes the execution of programs and applications efficiently, when you are low in memory Windows prompts you the following message: Your Computer is Low on Memory
When you are low in RAM, the programs and processes work slowly.
To fix this, Windows 10 incorporates virtual memory which serves as a support for physical memory.
Windows 10 connects to the virtual memory defined by default to store some of these memory pages that have less activity in a file called pagefile.sys.
Method #1: Increase Virtual Memory in Windows 10
By default, Windows 10 establishes an automatic virtual memory size, but you can edit it in a few steps.
For this press Winkey + R, then execute the command:
sysdm.cpl
Now go to the "Advanced" tab. There click on the "Settings" button located in the "Performance" section.
Again, go to the "Advanced" tab. There click on the "Change" button located in the "Virtual Memory" section.
There you must activate the "Custom size" box and define the minimum and maximum values to be established.
Click on the "Set" button to apply the changes.
Once finished this process restart your computer and check if the message your computer is low on memory doesn't appear again.
Method #2: Disable High Memory Programs & Apps
Many applications in Windows 10 make excessive use of RAM affecting the overall performance of the system.
To check in detail the consumption of RAM in real time:
Go to the Task Manager
In the column Memory, monitor the memory consumption.
Once check that applications have a high consumption, right click on it and select End Task:
If some app makes and excessive use of memory, try to uninstall it and reinstall it again to troubleshoot any software error.
Method #3: Repair Windows System Files
Due to system errors, virtual errors, malware, and many others, system files can sometimes be affected and thus damage the correct functioning of virtual memory.
For this, open the command prompt as administrator and run the following:
sfc /scannow

This command carries out a complete analysis of the system and, in case of detecting an anomaly, proceed with its correction.
Once finishes the process restart your computer and check if the error: Your computer is low on memory is fixed.
Method #4: Delete Temporary Files in Windows 10
Temporary files that are created daily in Windows 10 can eventually affect not only the computer memory but the optimal performance of the system at a general level.
To delete temporary files in Windows 10:
Open the File Explorer
Right click on unit C
Select "Properties"
Select the option "Disk Cleanup," then check the box "Temporary files" and "Temporary Internet Files" and click on the "OK" button to execute the changes.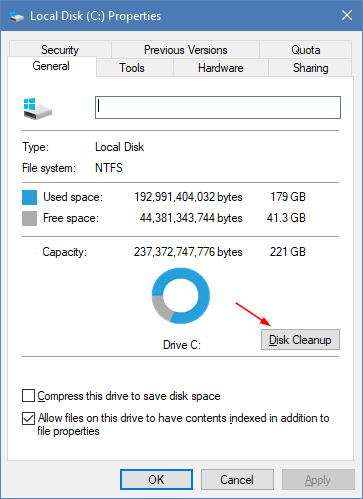 With some of these methods, you can optimize and improve the virtual memory in Windows 10.
Method #5: Buy More RAM
Unlike this isn't the appropriate method, if you can afford it, try to buy more ram for your computer.
Ideal advice is to verify how much is the maximum RAM capacity supported by your mainboard and make an economic effort to acquire a new memory module that will help optimize the levels of virtual memory.
Method #6: Scan Malware
Some intrusive virus or malware can affect the optimal performance of your memory RAM, leaving you to the error: Your computer is low on memory
One easy way to remove that unexpected virus is to downloading an Antivirus Software. I recommend downloading Avast Free because is the best antivirus protection software that you can get for free.
Download Avast from here. Then run a scan on your computer to remove any virus.
To remove Malware on your computer, I recommend you Malwarebytes because it's also free and works great.
You can download Malwarebytes from here.
Method #7: Downgrade Windows Version & Architecture
If you are low on RAM and you don't want to buy more, one thing you can do is downgrade your current Windows version and architecture.
Let's suppose you have only 2GB Memory RAM, and you installed Windows 10 64 bits, your computer will struggle to make some easy tasks because you are pushing too many their resources.
So if you instead install Windows 7 32 bits, I assure that your computer will improve its performance on the system and programs.
So if you wanna to downgrade or install Windows 7, you can follow this tutorial on how to install Windows 7 from a USB.
You may also like to know: How to Reinstall Windows 10 without losing Data