Do you see the error Failed to play a test tone? Well, on this post I will show you how to fix this annoying error on Windows.
Some time ago, Microsoft released the latest version of its operating system, and many millions of users have already upgraded to Windows 10.
During this time, I have seen how with each update, some users have reported multiple problems in the system that appears randomly on some computers without knowing very well the cause.
Some of the most frequent are to see how your PC occasionally restarts for no apparent reason or how soon you see the Failed to play a test tone warning and the sound stopped working.
Focusing on this last problem, I will show below some tips to fix this error on your Windows 10.
Method #1: Check your Connections
Although it is somewhat obvious, it is first of all advisable to check the connections of your cables to verify that all of them are correct and rule out that the problem Failed to play test tone isn't because of a bad sound card or speakers connection.
Method #2: Mute Sound
The next step, although it is also quite evident, is to verify that you have not muted the audio of your computer without realizing it.
Sometimes when you try to start the test tone, Windows can see that you have mute your sound.
To enable your sound, you must right-click on the speaker icon found in the Windows 10 taskbar and open the Open Volume Mixer option.
Once there, you will have to check that the speaker volume isn't turned off or in mute mode.
Method #3: Check Audio Drivers
System updates can cause specific drivers to be uninstalled. Hence the next thing you need to do is check if the audio drivers are reporting an error.
In any case, it is advisable to reinstall the audio drives in your computer. To do that follow these simple steps:
Rightclick on the Start Menu and select the option: Device Manager
Once there open the section Audio inputs and outputs
Right-click on Speakers and choose the options Uninstall or Update
Method #4: Update High Definition Audio CODEC Driver
Some computers may encounter problems in their IDT High Definition Audio CODEC that you can solve by manually updating their driver and therefore fixing the error Failed to play test tone.
To do this, you must right-click on the Start menu and select the option Device Manager.
Once there, open the section Sound and video controllers and game controllers and right-click on High Definition Audio Device, finally select the option Update driver.
On the window that opens, you only need to choose the option Search automatically for updated driver software and wait for Windows to install the drivers.
Method #5: Set Default Device
If you try to connect to an audio device via USB or HDMI, you may have to set this device as the default to troubleshoot the error Failed to play a test tone.
To do this, follow these simple steps:
Open the Control Panel
Navigate to Hardware and Sound > Sound
On the window that opens, find your new connected device and right-click on it.
Finally, choose the option Set as Default Device.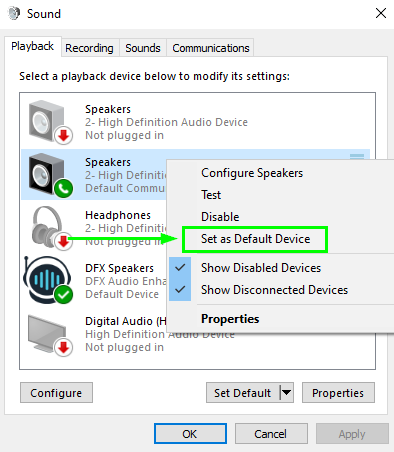 Method #6: Run Troubleshooter
Microsoft has a tool called Audio Troubleshooter that allows you to perform an audio system check to detect any problem; that tool can help you to fix the error Failed to play test tone.
This troubleshooter can be downloaded from this link: Audio Troubleshooter.
Once you download the file, just run it and start the process clicking on NEXT. You only need to wait for the tool to start troubleshooting your computer.
Method #7: Disable Audio Enhancements
Audio Enhancements are a useful feature that Windows has to improve the sound of your system. But when you have an error like Failed to play a test tone, you may need to disable it. To do this, follow these simple steps:
Open Control Panel
Navigate to Hardware and Sound > Sound
Now try the sound again to see if the problem has gone.
Method #8: Try Different Formats
At last option, you can try different formats to see if that fixes the error. To do that, follow these steps:
Open Control Panel
Navigate to Hardware and Sound > Sound
Now, go to the tab Playback, right-click on your default device and select Properties.
Once there, in the Advanced tab, go to Default Format and change the settings and try the one that works for you.
Wrapping Up: Failed To Play Test Tone
The error Failed to Play Test Tone can be annoying when you don't know how to fix it. Hopefully, with any of the methods I mentioned above, you can quickly fix this error and enjoy your multimedia content again.
Thanks for reading, if you have any question about this tutorial, let me know in the comments section.
Must read: