Google Chrome characterized by being among the most stable in the sector and with a large number of options.
Although Chrome is probably the Web browser that fewer errors usually present, the sure thing is that it is not exempt from them at 100%.
These problems are sometimes caused because the Internet connection doesn't work correctly. But at other times it can also be problems with the blocking of an IP address by some websites that ultimately makes them inaccessible.
This can also happen because the website or service you are trying to access isn't compatible with the SSLv3 protocol (Secure Socket Layer version 3).
Other possible causes of this error are some third-party programs such as antivirus or an extension installed on Chrome that could be interrupting your connection to the website.
But errors in Google Chrome can be due to multiple reasons and precisely today we want to refer to the error that occurs in the browser when we try to visit a website: ERR_CONNECTION_ABORTED
If this error is displayed in your web browser, before trying any solution or even the ones shown below, we advise you to try to access the said website from another browser other than Google Chrome.
Its also advisable to try to access the website using incognito mode can also be useful.
If in spite of all this you still can not access said Web, here we show you step by step how to solve the Google Chrome error: ERR_CONNECTION_ABORTED
Method# 1: Disable SSLv3 in Google Chrome
First, we are going to disable SSLv3 to troubleshoot any problem.
Go to your desktop and find the Google Chrome Shortcut. There make right-click on it and select in the contextual menu: Properties
This will open a new window; there you have to go the Shortcut. In the Target field and replace the current target path by the one shown below:
C:\Program Files (x86)\Google\Chrome\Application\chrome.exe "-ssl-version-min=tls1
Don't forget to click on the Apply and OK buttons so that the changes made take effect.
This will now disable SSLv3 in your Google Chrome browser. Now you must check if you finally have access to the Website that previously reported the error: ERR_CONNECTION_ABORTED
Method #2: Disable Antivirus & Firewall
As we mentioned at the beginning of this tutorial, sometimes the antivirus or firewall can be the cause of this error.
Therefore, if Google Chrome shows the error ERR_CONNECTION_ABORTED, it is advisable to disable the antivirus to check if this is the cause of the error.
To do this, you will have to go to the system tray in the taskbar.
Find your antivirus icon and right-click on it so that when the contextual menu displays, select the option Disable Antivirus.
For example in avast, you need to navigate to Avast shields control > Disable until computer is restarted
Once the antivirus is disabled, you can check if you can now access the website that displays the error ERR_CONNECTION_ABORTED in Google Chrome.
You can do the same with your Firewall protection in Windows.
This is due to the fact that Windows Firewall monitors and authorizes or denies internal or external connections to and from your computer.
Now, you can check again if your problem is solved or not.
Method #3: Reset or Reinstall Google Chrome
If none of the above worked for you, you will have no choice but to reset the Google Chrome browser and if it still doesn't work there will be no other option than uninstalling the browser from your computer and proceeding to install it again.
Option #1: Reset Google Chrome
Click on the Google Chrome menu and select Settings. Now go to the bottom and click on Advanced
Once there, go to the bottom of the Advanced settings and click on the option Restore settings to their original defaults
Finally, click on the button Reset settings to reset Google Chrome
Option #2: Reinstall Google Chrome
To uninstall Google Chrome open the Control Panel and navigate to Programs > Programs and Features.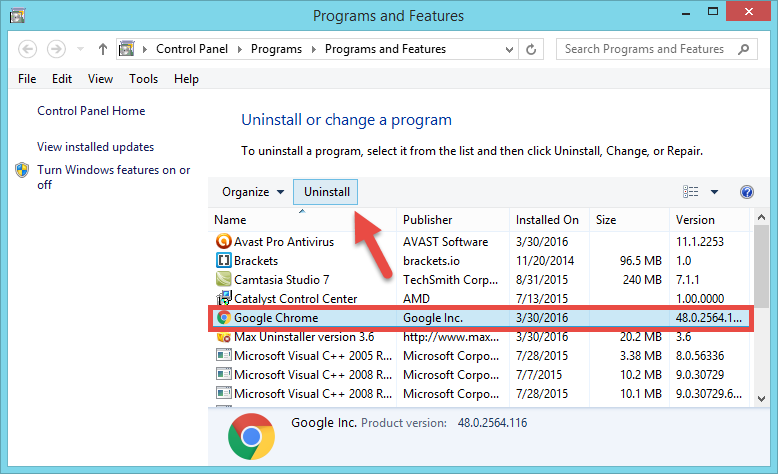 Find the Google Chrome program and click on Uninstall
Once the uninstall process finishes, download the latest Google Chrome version from here. Run the installer and wait.
Check the website that you want to enter and check that everything works great
Note: You don't have to worry about losing your information since all of it is linked to your Google account, so when you log in again in Google Chrome all your bookmarks and other information will be displayed again in the browser.