Nowadays the software in charge of backup information stored in our devices is playing a significant role.
In the face of so many virus attacks, computers that host a lot of information must protect themselves from such attacks to avoid losing data.
Having the information you need whenever you want is one of the things you should never miss. EaseUS Todo Backup Free is one of the programs that can make this a reality.
We know that this type of software may appear to be intended for the use of an expert.
However, the good thing about this program is that any user can use it thanks to the complete and simple interface that is available to anyone who downloads the product.
You may also like to know: The 5 Best Download Manager with Accelerator
Download EaseUS Todo Backup Free
Software to create and manage backup of files and systems.
Security, availability of the latest version and download speed are the responsibility of the software author.
Backup Options
First, we will talk about the options available in all types of different Backup Options offered by EaseUS Todo Backup.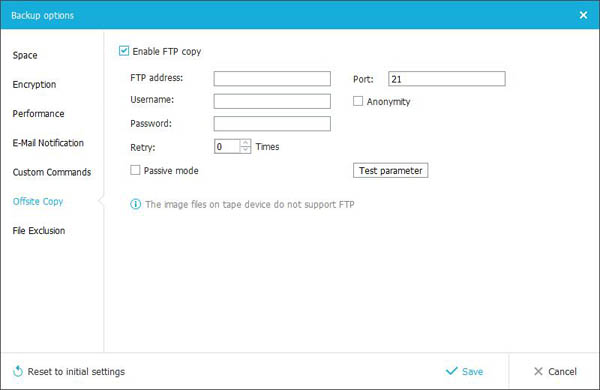 The options that we can find in the Backup options, allow us to choose:
The type of compression of the backup.
The possibility of encryption.
Performance (Priority of the process) and transfer speed if done through the network.
The possibility of notification by e-mail.
The possibility of adding commands (for before or after the backup).
Make the copy through FTP.
Exclude the desired files from the copy.
Image Reserve Strategy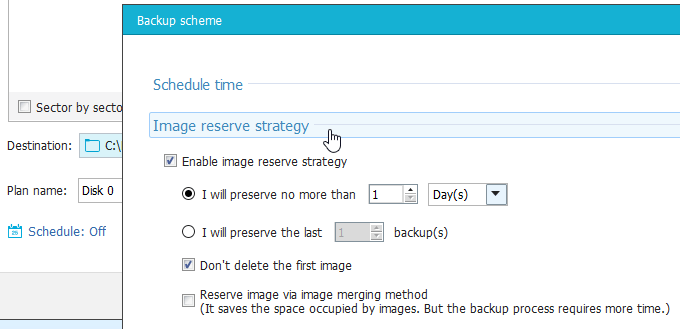 Among the options of the backup copy, we found the option Image strategy:
It allows us to save only the last backup and the days that we want to preserve the backup copies made.
Schedule Options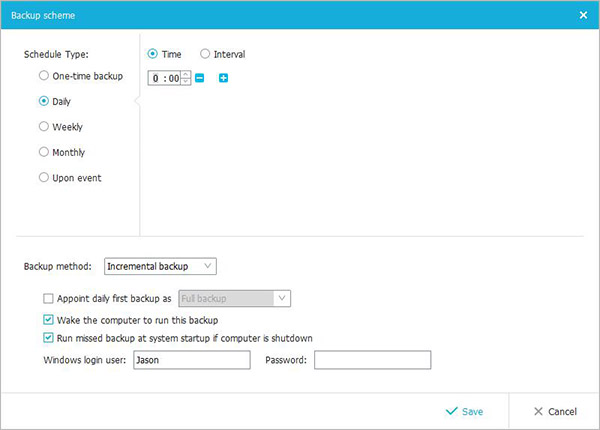 Exciting Backup Schedule options offered by Todo Backup.
It allows us to choose between:
One time backup
Daily
Weekly
Monthly
Upon event
And the backup method can be:
Full Backup
Incremental Backup
Differential Backup
The backup option upon an event allows us to choose between several system events that will generate the start of a backup.
Disk/Partition Backup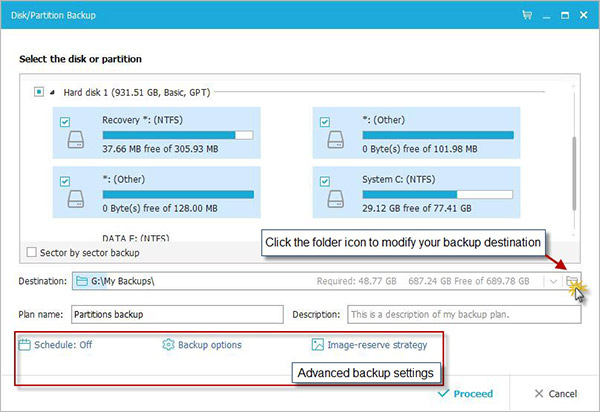 Disk/Partition Backup of EaseUS Todo Backup will be handy to make backups of our disks or partitions and be able to restore them in case of disaster.
File Backup
File Backup allows us to make backups of our files.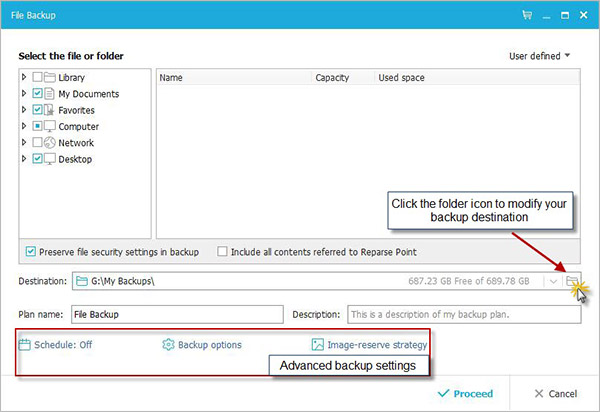 Obviously, we can choose which folders or directories we want to include in the backup, and which ones do not.
System Backup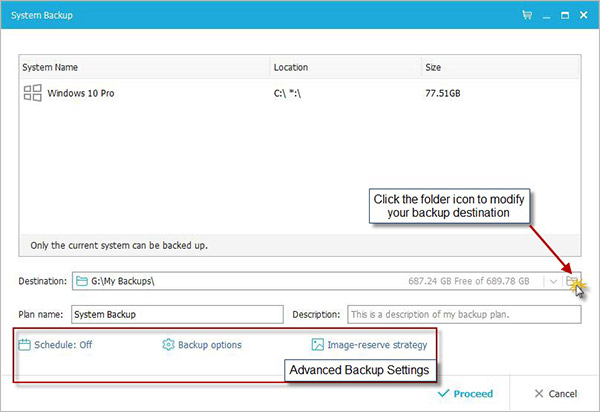 System Backup allows us to make a complete copy of our Operating System.
Smart Backup
Smart Backup is very similar to the normal backup files. The difference is that checks if changes have been made every 30 minutes in the desired files or directories.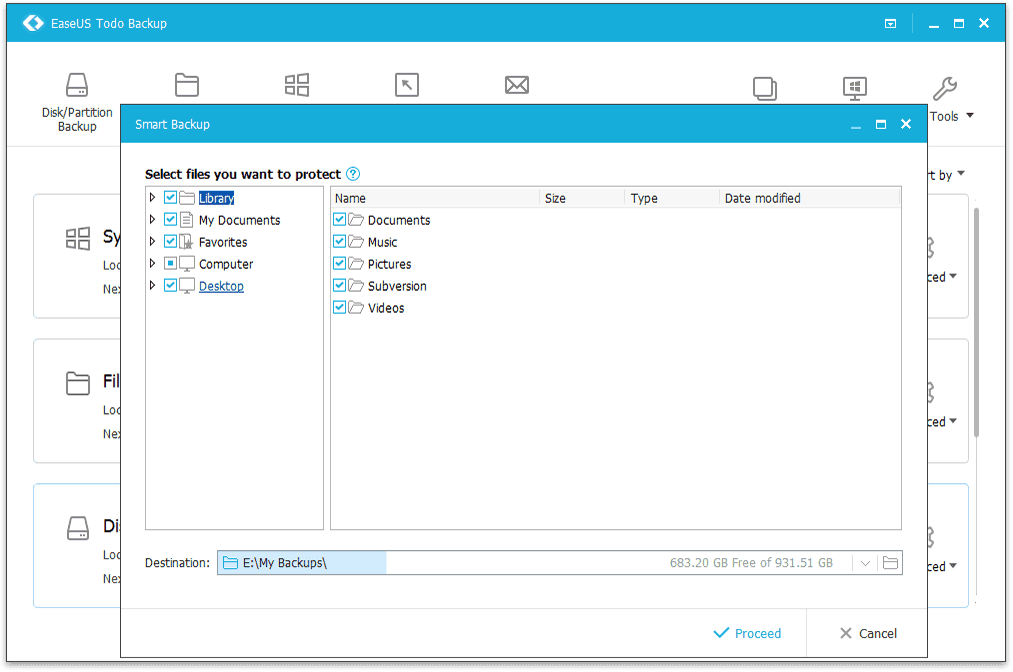 Smart backup is especially useful when working with database files that change frequently. Handy backup when there are folders shared among multiple users.
Allows us to create several backup copies every day and will enable us to recover any of them. It also allows you to go back to a copy of the last days.
It can not be used for files on the network, nor for partitions and disks.
Email Backup
Email Backup of EaseUS Todo Backup allows us to backup emails from our Microsoft Outlook email accounts.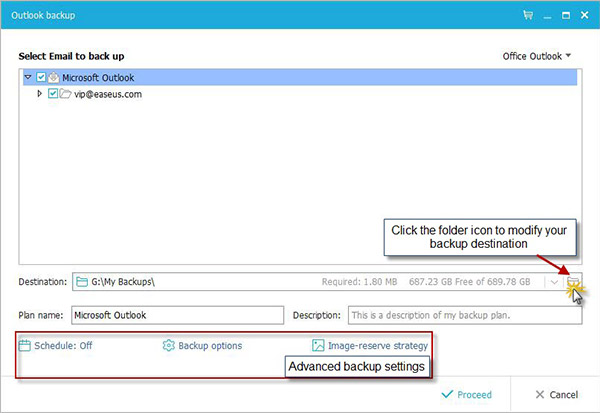 We can choose which mailboxes we want to safeguard, create schedules, configure the type of compression (none, normal, average, low)…
It can be handy to perform automatic and scheduled backups of our mailboxes, and thus avoid possible future problems and never lose our emails.
Disk/Partition Clone
Disk/Partition Clone will be useful when it is necessary to clone a hard disk.
It can be either to clone a hard drive on which an installed operating system is located or to clone an entire disk in which stored data are merely stored.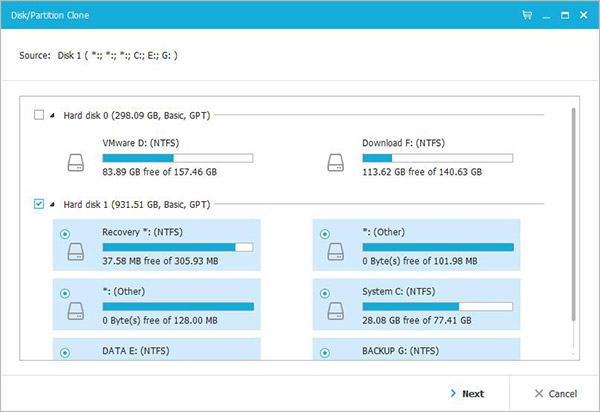 Disk/Partition Clone option will allow us to Clone a source hard disk to a destination hard drive (provided that the destination hard disk has the same capacity or more, than the space occupied on the source hard disk).
System Clone
System Clone performs complete cloning of our operating system and allows us to make a portable Windows USB.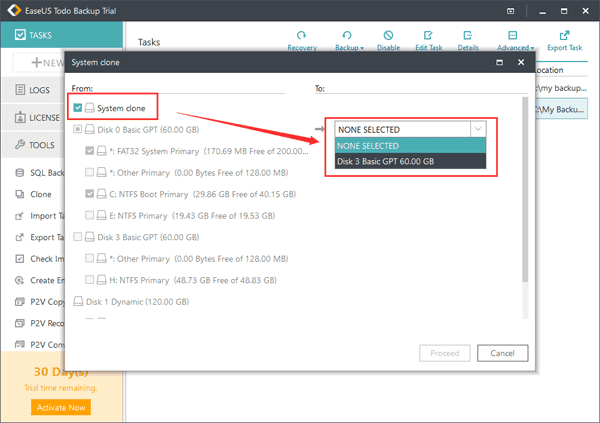 It is the best way to get a complete image of our operating system, which we can recover in case of disaster.
All these functions can be enjoyed in any of the versions, since they are the most basic, although we can say that this is complete software that gets five stars by having an excellent quality and price.
The functions that we can activate before the plans for companies, homes or technicians that work in a small work area can have a specific similarity.
Do not buy those plans that you do not need and if you have any questions ask for them through the support of the website.
This is the best way to solve any problem that may arise when handling the EaseUS Todo Backup software.
Also Read: 7 Best CloudFlare Alternatives For Your Website (Free & Paid)