Do you want to create an ISO on Windows 10? On this post, I will show you a tutorial about how to create an ISO file from DVD in Windows 10.
Creating an ISO image of the current operating system is a great idea as far as backup and availability are concerned since at any moment your system can collapse and present dangerous failures. If you have a backup image, you know that you have at hand all the configuration and files of the current system which gives you a part of peace.
So, on this post, I will show you a way to create an ISO image from DVD today we will see how we can create an ISO image from the files of our current operating system using some powerful tools.
For this analysis, I will use Windows 10, but this method applies to Windows 7 or Windows 8.
Create ISO Image on Windows 10 from Files
ImgBurn is a free tool that gives you the ability to create an ISO image of your current operating system safely and with various configuration parameters.
Download ImgBurn
Outstanding features of ImgBurn
It supports a large number of image formats such as ISO, IMG, DVD, CD, among others.
Supports files in UNICODE format
ImgBurn supports all Windows editions
You can burn multiple audio formats such as MP3, Mp4, AAC, OGG, among others.
Interface with great configuration features
The process of installing ImgBurn is simple; just download the executable file from the web page and double click on it. Press Next, accept the license terms and continue with the wizard steps until the tool is installed correctly in Windows 10.
Once you have installed ImgBurn in Windows 10 you will see the following environment when executing it:
As you can see we have several alternatives for the process of creating your ISO image. Within these options, the one that interests us at this moment is Create image file from files/folders since you will create the ISO image from the Windows 10 files.
Remember that we must have all your installation files in a place already defined within the computer.
When you select the Create image file from files/folders option you will see the following from where you must choose the Windows files already mentioned and specify the path and name where we will save the ISO image:
Now you must navigate to the Advanced tab, and from the right panel, then select the Bootable Disc option. In this option you must do the following:
Check the box: Make Image Booteable
In the Emulation Type field, select the option None (Custom)
In the Sectors To Load field enter the number 8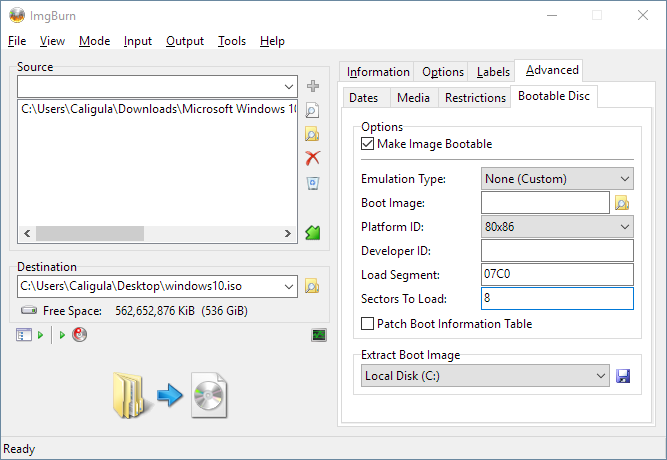 Then you must click on the magnifying glass icon in the Boot Image field and enter inside the boot folder (This folder is where you have the Windows files) and select the etfsboot.com file
Click on Open, and you will see the following. You can start the creation process by clicking on the icon located in the lower left:
You will see a message. Press Yes and begin the process of creating the ISO image of Windows 10
You hope that the process ends and you can see that the ISO image has been created correctly. Now you can use this ISO image to install Windows 10 anywhere in a practical way.
Create ISO Image from DVD in Windows 10
For this, I will use another useful tool called Infrarecorder, another of the free software that gives you the possibility to create ISO images from physical hard drives and CD and DVDs.
Download Infrarecorder
With Infrarecorder you have the following advantages.
Supports recording on double layer DVDs
Create custom data and audio from the hard drive
Display disc information
Supports ISO, BIN and CUE image formats
You can import data from individual sessions
It has the option to save audio files to MP3, WAV, WMA files, among others.
To install Infrarecorder in Windows 10, execute the file ir053.exe and follow the steps of the wizard. When you run Infrarecorder you will see the following work environment:
To create your ISO image from DVD, select the Read Disc option, and you will see the next window where you choose the Source (Our DVD unit), and in the Image file field, you must select the ISO image to create.
Press OK and start the process of creating the ISO image.
As you can see, this tool is practical and straightforward to use, and now you can create your ISO images from DVD easily on Windows 10, and also Windows 8 and 7.
Wrapping Up: Create ISO image from DVD or Files in Windows 10
You have practical tools to create ISOs of your Windows 10 operating system and thus have the availability at all times of a current, dynamic and fresh operating system that has many new features and will undoubtedly mark a milestone within the systems created by Microsoft.
Have you been able to create your ISO image in Windows 10? Let me know in the comments section.
Must Read: