Do you want to overclock your CPU or GPU? Check this list of the best CPU & GPU overclocking software.
"How to overclock Intel i7 7700K", "how to overclock Intel i7 8700K" and "how to overclock Intel Celeron" are the three most searched searches in recent months in the Google search engine.
If you have reached this article, it is probably because you want to overclock the processor, be it an Intel 5 6600K or an AMD Athlon 64. Changing the frequency of the CPU to today is a straightforward task.
However, you must meet some requirements for overclocking. On this post, I will leave you some of the best overclocking software that you can use for your CPU and GPU.
Before starting with the list, I must clarify that WindowsHelper is not responsible for the possible damages that you may cause to the computer in question. All responsibility lies solely and exclusively on your person.
Remember that the overclock should be applied with care, as a bad practice can cause irreparable damage to the system, I recommend that you continuously monitor the temperature while doing these stress tests.
MSI Afterburner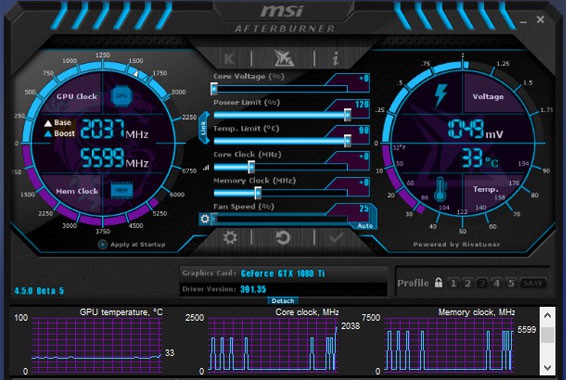 This is the most recognized and most popular overclocking software in the world for the Intel CPU, and it has the graphics card overclocking utility that allows you to control them completely.
MSI Afterburner provides a detailed description of your hardware, in addition to customizing fan profiles (you can fully customize a predefined fan speed curve to determine cooling performance), benchmarking and video recording.
Afterburner is free and can be used with graphics cards of any brand, and the best part is that it facilitates overclocking so that complete beginners take full advantage of the performance of their hardware.
It has a GPU clock setting/shader/memory, fan speed adjustment (advanced) and adjustment of the GPU voltage control. Its hardware monitor that is part of its interface and effectively tracks the performance of its platform is made to measure, in addition to displaying frame rates, among other things, during the game.
Other features include the triple overvoltage that gives you an advantage through the precision control of Core memory and PLL voltages, in-game FPS counter with real-time information on the performance of your system in an on-screen display so you can monitor the effect of your overclocking settings while you play.
It also receives 64-bit support for such apps, custom user masks, multilingual support, Kombustor's benchmarking tool based on the Furmark software to take your graphics card to its limits and test thermal stability and performance, and predator video capture so you can record your best performance in games or overclocking without losing a single frame.
Download MSI Afterburner
Intel Extreme Tuning Utility (Intel XTU)
This is a simple Windows-based performance tuning overclocking software for novices and professionals alike, especially overclocking enthusiasts.
Intel XTU helps you overclock, monitor and accentuate a system, with a software interface that exposes your strong standard capabilities on most platforms, as well as new special features for the net processors of Intel applications and Intel motherboards.
It is sturdy and worth the installation, with functions such as CPU usage graphics, temperature and process frequency, which changes over time, so you can monitor these changes.
The manual adjustment tab allows you to adjust your processor, graphics, voltage and memory, and the stress test modules will enable you to exercise your CPU, memory and graphics to determine if the system is still stable.
Other features include profile options so you can save and remember specific overclocking settings, which you may have forgotten about.
However, it is not recommended to use Intel XTU for overclocking unless you know what you are doing, and can accept the risks involved. Knowing this, it is one of the best overclocking software for Intel CPUs that you can use.
Download Intel Extreme Tuning Utility
EVGA Precision X
This is another free and convenient overclocking software for Intel CPU, which comes with support for up to 10 custom user profiles.
EVGA is one of the best overclocking software for the Intel CPU today, and it has become an essential tool for players who want to improve their gaming laptop and boost it in terms of hardware performance.
However, it only works with NVidia graphics cards, unlike MSI Afterburner that works with all graphics cards of any brand, so AMD users will have to use something else. Its latest version is compatible with the Microsoft DirectX 12 API and allows you to change the clock and memory compensation.
Features include a navigable interface, seamless switching between user profiles, fan speed, voltage and much more. The latest version, the PrecisionX 16 has added features such as support for overclocking, functionality and full support for Microsoft Vista/7/8/8.1 and 10.
Another new feature is EVGA LED Sync, which you can use to synchronize your EVGA RGB graphics card, your CLC cooler or your chassis with EVGA LED Sync, integrated into Precision XOC.
The advantages of using EVGA Precision X include a dynamically set independent voltage or frequency points for maximum control, linear mode for overclocking with a single click, scanning mode to find an optimal voltage / frequency separation for your card, OSD interface with RGB color support, custom fan control, quick access screen key that supports BMP and JPG, and much more.
Download EVGA Precision X
AMD Overdrive
If you have an AMD GPU, this is the only overclocking software you need. Unlike MSI Afterburner, AMD Overdrive is only compatible with AMD brand GPUs but still manages to offer one of the most effective ways to make your PC run at a vigorous pace.
While your CPU is of AMD origin (including your chipset), you can start to accelerate those components as you have never seen before. Best of all, the attractive interface provides convenient access to an impressively deep set of tools to make this tool ideal for both newcomers and those who already have experience in overclocking.
So, what does this brilliant free overclocking tool offer? To start, AMD Overdrive allows you to change the speed of your RAM clock and adjust the speed of your fans ultimately (an incredibly useful utility, especially if you have problems with overheating).
The integrated status monitor allows you to see the status of your processor in real time as you accelerate it to the top, and with an optimized interface (one that has improved noticeably over the years), you can adjust the voltage or speed clock and safely by only moving a slider.
It is a bit more complicated than that, but I liked how impeccable it can execute its utilities through simple actions.
Download AMD Overdrive
SetFSB
Suitable for experts, SetFSB allows you to play with the front bus (FSB) of your PC. I have shown you some of the most popular tools and free utilities in the world of overclocking, but what if you are an experienced PC builder who wants to squeeze every drop of what your machine can offer? It sounds like you need something comprehensive and comprehensive that has been designed with overclocking professionals in mind. Here is the small and brilliant tool known as SetFSB.
Unlike other overclocking software, SetFSB aims to make adjustments to the front-side system bus (FSB), which connects the CPU to the main memory. Its speed is measured in MHz and can vary from 60 to 400 (you can go higher if you are lucky or if you are a bit extreme), so the higher the speed, the better the performance. Think of it as if you were connecting directly to the Matrix.
A small warning SetFSB is not for beginners and should only be used if you are a PC expert and an overclock professional. You will need a strong knowledge of the limits of your motherboard and CPU before retouching your settings. Otherwise, you could end up burning your machine due to the unlimited precision that you have at your fingertips.
Download SetFSB
Wrapping Up: Best CPU & GPU Overclocking Sofware
So far those were the best overclocking software that you can download to start overclocking your COU or GPU easily. Have you been able to overclock your computer? Let me know in the comments section.
Also Read: How-to Fix NVIDIA Graphics Card Not Detected in Windows 10